This Thursday, February 19, 2015, Ms. Suzanne Mandong, new UNFPA Representative, presented her credentials to the Minister of Foreign Affairs and International Cooperation of Burundi.
His Excellency Ambassador Hermenegilde Niyonzima, Assistant Minister received the credentials of the new UNFPA Representative in Burundi in the presence of senior ministry staff.
The two personalities exchanged congratulatory messages. Ms. Mandong conveyed warm greetings to H.E. Pierre Nkurunziza, President of the Republic of Burundi, as well as to the people of Burundi from Dr. Babatunde Osotimehin, UNFPA Executive Director. She then saluted Burundi's  strong results and efforts on  the promotion of sexual and reproductive health and rights in general, and family planning in particular. She further acknowledged the personal commitment and leadership of the President of the Republic who has made family planning a right and a national priority n the country,  and taken other  important measures such as  free health services for women during childbirth and free health care for children under 5 years.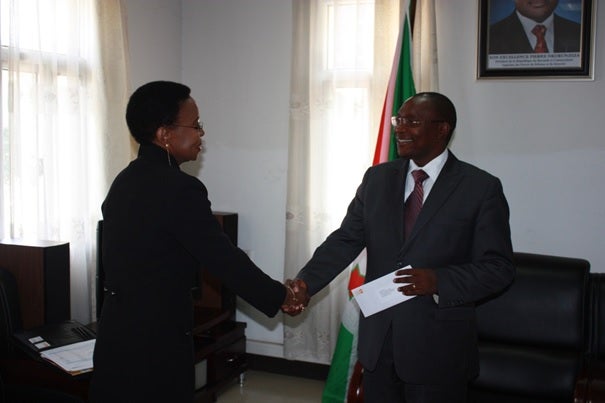 While recognizing that health challenges are still immense, Ms. Mandong reiterated UNFPA's commitment to remain alongside Burundi,  a priority country for the Organization in terms of technical and financial support,  to give hope to women and especially the most vulnerable ones and adolescent girls in Burundi.
H.E. Ambassador Hermenegilde Niyonzima also congratulated Ms. Mandong for her appointment as head of UNFPA, a privileged partner in the country. He reaffirmed the Government's commitment to create a favorable and secure environment for the implementation of the country programme during the period of parliamentary and presidential elections in 2015 and beyond.
The two personalities then reaffirmed the importance of the ICPDB2014  outcomes and recommendations, the role the Government played in the review process, and the need for the integration of the ICPDB2014 outcomes into the post 2015 development agenda. Ms. Mandong re-assured that she will spare no effort to support Burundi in this process.
His Excellency Ambassador Hermenegilde Niyonzima reiterated the request of the Government of Burundi to welcome Dr. Babatunde  Osotimehin in Burundi for an official visit in 2015.
Ms. Suzanne Mandong was accompanied at the ceremony by Dr. Sergio Soro, former OIC, Dr. Isabelle Moreira, Programme Advisor, Mr. Gervais Barampanze, Assistant Representative, and Mr. Jean Didier Ntungwanayo, IT/Photographer