A new High-Level Commission of advocates, experts and activists was established today to help commitments to women's health and rights made at the 2019 Nairobi Summit on ICPD25 stay on track, even during COVID-19, which is blocking access to essential services.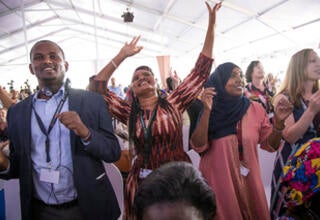 In November of last year, more than 8,300 delegates from 170 countries and territories gathered in Nairobi, Kenya, to affirm support for reproductive health and rights. The event, the Nairobi Summit on ICPD25, generated...
This is a moment of suffering for many people, especially people of African descent. We at UNFPA stand in solidarity in the global fight against racism and support the peaceful struggle against all forms of discrimination, marginalization and injustice. Black lives matter.