The United Nations Population Fund, UNFPA, has organized with the Burundi Parliament a debate to analyze the implementation of the commitments of the International Conference on Population and Development (ICPD) by Burundi. This conference took place from 20 to 21 June 2019 in the province of Ngozi in northern Burundi and aimed to report on progress made to advance the rights and choices for all in Burundi and to reaffirm the commitment to advance the implementation of the ICPD agenda, in line with the acceleration of the achievement of the Sustainable Development Goals (SDGs) under Agenda 2030.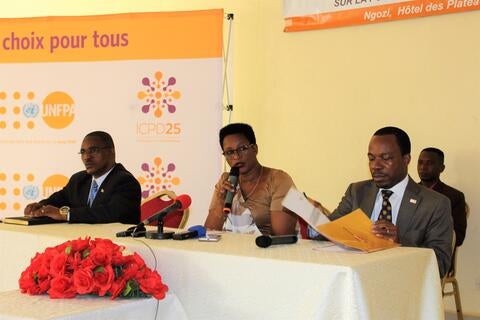 "Im pleased to see situation has improved significantly in Burundi", said the Resident Representative of UNFPA. Indeed, the average number of births per woman has increased from 7 in the 1980s to 5.5 today; the number of preventable maternal deaths increased from 500 per 100,000 live births in 2010 to 334 in 2017, almost 40% decrease. In addition, 18% of women used modern methods of contraception in 2010, compared to 23% in 2017. In spite of this rather clear evolution, the figures remain worrying as Richmond Tiemoko indicated. Many women are still deprived of their reproductive rights, as more than 31% of women want to avoid pregnancy but do not have access to information and services related to modern contraception.
At her side, Honorable Jocky Chantal Nkurunziza, Second Vice-President of the National Assembly, reiterated on behalf of the Burundian Parliament the commitment to invest more in the promotion of family planning in Burundi. "As representatives of Burundians people, we will raise awareness and encourage the population to family planning through several field trips," she added.
 Reassuring and motivating testimonies for parliamentarians
In front of the parliamentarians, on the sidelines of the exchanges and debates on the challenges and solutions for the control of the demography, some couples have testified of the benefits of the family planning. Captivating testimonies ... Among others, the couple Francine Irankunda and Jean Claude Niyongabo. A couple from the municipality Mwumba, they are both coming from families with so many problems, consequence of large numbers of children.  In Mrs Irankunda's family, they are 9 children. In her husband's family  they are 11 children. In Francine Irankunda's family, no child goes to school. Likewise in her husband's familyI. Their families are poor. Following these problems, Irankunda will be married, despite herself, at 17 years old. She will never forget it, it will have taught her a lesson. With Jean Claude, they agree on two children. And at 23, she already has both. The couple confided they have decided to not have another child. "We will only keep both," shared the husband. "We want to ensure a best future for our offspring," added the wife.
Another testimony shook parliamentarians. The story of Anese Ntakirutimana and her husband Emile. Anese was suffering from Obstetric Fistula. After two long years of sickness, Emile, her husband, abandonned her and married another woman . But afterwards, she is recovering from obstetric fistula and returns to her home. Her husband took her back home and abandoned now the second wife regreting not having support his wife in times of need and suffering. Currently, the couple lives in total conviviality. Anésie and Emile ensure that obstetric fistula is preventable and curable. However, in view of their experience, it should be warned as much as possible. Thus they ask not to give birth outside the health centers and not to get married before the required age. "Most of the victims of obstetric fistula i met are in both categories" , shared Anese.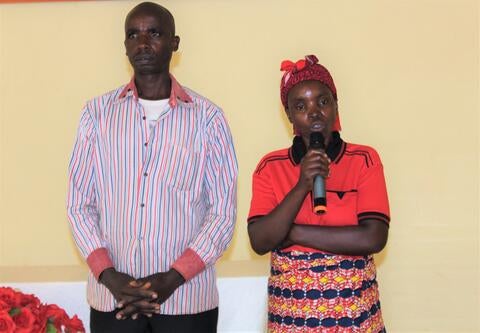 At the end of this debate-conference, Burundians parliamentarians identified some actions to be considered as the priorities of the Government as part of the implementation of its commitments to the ICPD. These priorities have been grouped under (i) Rights and Gender Equality, (ii) Health, (iii) Mobility, (iv) Governance and (v) Data.
By Queen BM Nyeniteka