UNFPA: Delivering a world where every pregnancy is wanted,
every childbirth is safe and every young person's potential fulfilled.
20 December 2016
From self-mistrust to realizing his dream
KAMENGE, Burundi – When Ramadhani Mbonankira was orphaned, the survival of his family was no longer a certainty. Ramadhani, now 32, lives with his two brothers and two nephews in Kamenge, north of Bujumbura, the capital of Burundi. He had tried as best he could to initiate small businesses but without much success. But since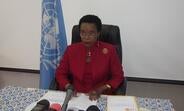 Sustainable Development Goals Explained: Good Health and Well-being
La prise en charge des cas de viols est une urgence médicale. Adressez-vous aux hôpitaux...